Feb 23, 2022
Congressman Palazzo Officially Files For Re-election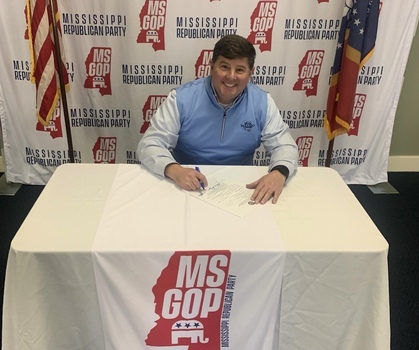 Gulfport, MS – Conservative Republican Congressman Steven Palazzo filed official paperwork at 2:00 p.m. today at the Mississippi Republican Party headquarters in Jackson to seek a seventh two-year term representing Mississippi's Fourth Congressional District.
"It is an honor to serve South Mississippi in Congress. Republicans are likely to re-take the House majority this fall, which will give me an opportunity to chair the Homeland Security Appropriations Committee in the next Congress on behalf of our state. It is an important leadership post from which I'll be focused on renewing funding for completing border wall construction, bolstering security at our southern border, and ensuring south Mississippi retains our critical role in homeland defense," said Palazzo.
As Y'all Politics reported on Tuesday this week, Palazzo starts the race with a healthy lead according to recent polling. Republican primary voters cite Palazzo's military service, support for veterans, and his conservative voting record as key factors in their support. Fully 71% of likely GOP primary voters agree that Congressman Palazzo has been an effective leader in Congress for south Mississippi and it would be a mistake to replace Palazzo's seniority with a new person who has to start over in Congress.
"I will continue traveling throughout the Fourth District, meeting with voters, and working hard to once again earn the support of my fellow Mississippians," said Palazzo.
About Steven Palazzo
Steven Palazzo is a successful small business owner and Certified Public Accountant. Born and raised in south Mississippi, he earned bachelor's and master's degrees in accounting from the University of Southern Mississippi.
A Marine Corp veteran who served in the Middle East during Operation Desert Shield/Storm, Steven currently serves as an enlisted soldier in the Mississippi National Guard. In Congress he serves on the powerful Appropriations Committee where he works to secure funding that is vital for supporting jobs and economic development in south Mississippi as well as for maintaining our military installations and homeland defense.
Steven is the proud father of three children.