Jun 1, 2022
Palazzo endorsed for re-election by National Right to Life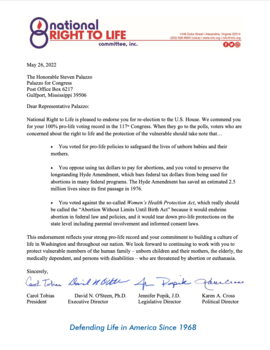 On Thursday, the National Right to Life Committee, the nation's leading pro-life group, endorsed Mississippi's 4th District Congressman Steven Palazzo for re-election, noting his 100% pro-life voting record in the 117th Congress.
In their endorsement, National Right to Life said voters should know that Palazzo voted for pro-life policies to safeguard the lives of the unborn and their mothers while opposing using tax dollars for abortions.
The group also notes that Palazzo voted against the recent attempt by Democrats to codify and expand Roe v. Wade that would have torn down pro-life protections in states and allowing abortion on demand until birth.
Continue reading